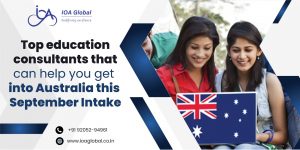 Australia has a strong education system, world-renowned universities and institutions that offer a wide range of academic programmes and disciplines. Australia also offers its students a high standard of living and a safe environment, making it an attractive destination. Additionally, the country's multicultural society provides a welcoming and diverse community for students from around the world. Moreover, Australia's natural beauty, vibrant cities, and opportunities for adventure and exploration add to its appeal. Finally, the post-study work opportunities and the potential to gain valuable international work experience make studying in Australia a favorable choice for many students seeking a global education.
Being the cheapest country to study abroad for Indian students, Australia has gained a reputation as the best study abroad destination. The September intake in Australia is important as it provides a wider range of programme options, offers flexibility for late applicants, and increases admission chances due to lower competition. It also allows students to have ample time for preparation, settling in, networking, and engaging in social activities with a fresh cohort of peers.
Here is a list of top education consultants in India that will help you get into Australia for this September intake.
One of Delhi's top educational consultancies is IOA Global, as per a Google search for "best study abroad consultants near me". They were established in 2006 and use a cutting-edge methodology to help students with housing guidance, IELTS, PTE, visa applications, counseling, course selection, and university selection. Experts are made available to students to help them, respond to their questions, and aid in their admission to the colleges of their choice. No matter if it is an autumn or spring intake, they will help you choose the ideal university.
For the September intake in Australia, the professionals will assist you in meeting all deadlines. Students can choose the most affordable and advantageous country with their assistance. IOA Global can be found among the top study abroad advisors near me if you do a search there.
Website-  https://ioaglobal.co.in/
Address: I-59/60, Lajpat Nagar, New Delhi, 110024
Contact number: +91 9205294961
IDP is a market leader and well-known brand in India when it comes to placing international students. They provide a variety of services, such as help with applications, advice on choosing universities, and support with visas. IDP Education is a well-liked option among students due to their extensive network of connections with colleges throughout the globe and the specialized help and support that their expert counselors offer throughout the entire process. They will assist you at every stage of the Australian September intake application process.
Address: Rajouri Garden, Nehru Place, Noida
LeapScholar wants to create a network of talented Indian children interested in studying abroad. Their objective is to assist future world leaders as they pursue their professions internationally. Leap Scholar gives you thorough instructions on the admissions procedure and will inform you of all the guidelines and procedures to follow when submitting an application for study abroad.
Address: 51, 12th Main Rd., Sector 6, HSR Layout, Bengaluru, Karnataka 560102
Leverage Edu was introduced at the beginning of 2017 by Akshay Chaturvedi. He introduced the most effective application process for students from Nepal, India, Nigeria, and other developing nations to enroll in colleges abroad. You will be informed about the top Australian universities for foreign students looking to target and pursue higher education in this September intake. They provide every service they can and give each student a dedicated mentor so they may take advantage of the resources and achieve their goals.
Address: 2nd & 3rd Floor, Windsor Grand, Raipur Khadar, Sector 126, Noida, Uttar Pradesh 201313
One of the best consulting firms for foreign education, Edwise Foreign, offers specialized advisory services, giving each phase of the study abroad process equal attention and effort. In order to help students be admitted to the colleges of their choice, the organization is committed to giving them a rich and inspiring study abroad experience. As a result, it will be your first choice for Australian universities that will be accepting students in September.
Address: South Extension I, New Delhi
International students find Australia to be a desirable location because of its strong educational system, world-class universities, high standard of living, secure environment, multicultural community, and stunning natural surroundings. Thus, this September intake in Australia provides students a chance to get into their dream university, and as the application process might get a little difficult, these are the institutions that will provide you with the best facilities in order for you to achieve your dream.