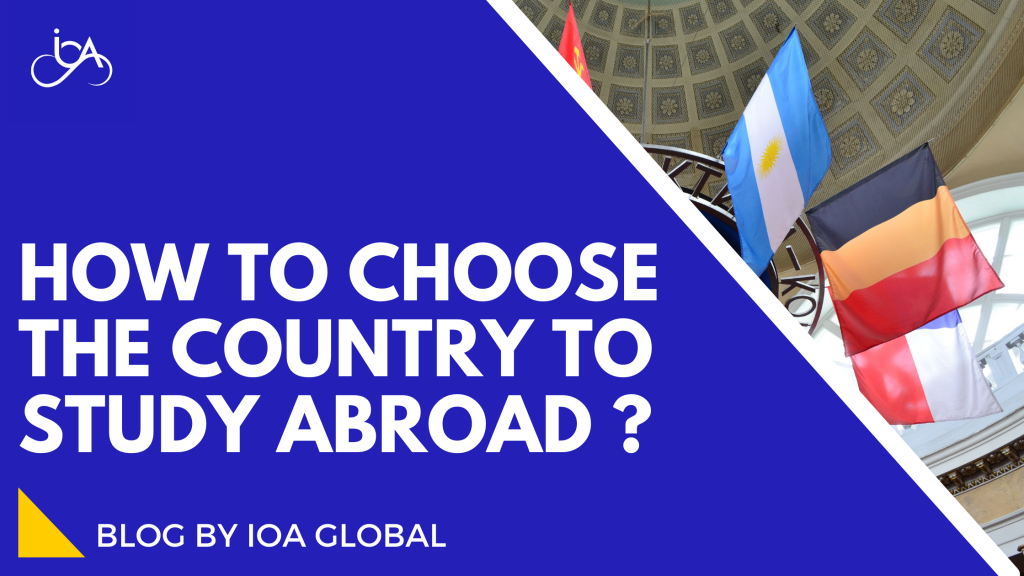 Tips to choose the country to study abroad
The decision to head out for overseas education is not just courageous but extremely challenging opening doors to new ventures, abundant opportunities, and growing prospects leading to holistic development in students. One must mentally prepare themselves to witness situations in the future leading to growth and never-ending opportunities. Once that is accomplished, the next question to tackle is how to choose a country to study abroad?
With thousands of options available, students challenge to pick out the best suitable preference as per their career prospects, employment opportunities, and also the diverse culture. To drag you out of the void of confusion, take a tour below to understand the steps for choosing a country to study abroad.
Tips on how to choose a country to study abroad
1. It's good to have a subject preference 
When picking a country for overseas education, it is feasible to have a subject of choice in hand first. Now, that we have a preferable course, look out for countries catering to that requirement with leading university options offering immense opportunities and resources to the students in the subject undertaken. One of the key factors in picking a country to study abroad is to emphasize the university choice that offers the best opportunities in the course you want to pursue. Let your study abroad consultant deal with the question of how to choose a university to study abroad with their expertise.
2. Examine the course content 
Regardless of where you plan to study, how your selected course will be delivered is an important factor to consider. It's critical to consider the list of courses to study abroad and how education is given (whether through seminars or lectures), as well as reading lists and techniques of assessment, to ensure that they align with how you want to learn. Examine the module selection and make sure the subject content corresponds to your interests. You could personalize your course by selecting and combining modules. Some governments give more leeway than others in this regard. Universities in the United States, for example, allow students to select a "major" while also studying modules from other areas to provide a more well-rounded education.
3. Look out for the finances 
This is where reality slips in, when choosing a country to study abroad, one cannot overlook the finances. To start with, have a budget in hand ensuring enough money can be devoted to key necessities like tuition fees, student accommodation, travel expenses, etc. When considering studying abroad, it pays to look into the many financing alternatives available; loans, grants, and scholarships are all possibilities, and their availability will vary depending on your home country and the area you're considering as a potential study site.
4. Scope of opportunities 
Every student has an eye for the best opportunities to help them shape their career over the years. With the help of your study abroad consultant, look out for countries having a growing scale of resources and employment opportunities for students to evolve and move towards a brighter future. It is necessary to consider which country has the highest requirement of professionals belonging to the career choice you have shortlisted.
5. Presence of familiar faces 
The experience to study abroad can be daunting for the students. Moving out for overseas education miles apart from your family is extremely challenging. It is better to choose a country with the presence of people you could rely upon in case of emergency. However this is a secondary option, your decision should be entirely based on the higher ranking of the universities and the subject that interests you the most. It will be a win-win situation if your dream university is in the same country where someone you know resides.
6. Let's get IELTS ready
The ball is in our court now, by scoring well in the IELTS exam students can have the choice to enroll in their dream university and climb the ladders of immense opportunities over the years. Use the net to search out for study abroad consultants near me and start your preparation without procrastinating. IOA global is here with the best IELTS training and expert guidance to convert your dream of foreign education into reality. Remember this is a vital step to expand your choices, only if you ace the exam with a high score.
7. Language requirement 
Although moving to a new country is an excellent opportunity to learn a new language, if you're bilingual, you should select countries where you already know the language. Immersive learning is fantastic, but this is a crucial moment in your life, and putting yourself into a scenario where you don't speak the native language risks jeopardizing your stay in the nation and your academic achievement. When considering foreign education, check the language criteria of the institution you have shortlisted, check out what language is used by them to deliver lectures. Some universities also have language requirements to make it in, so before enrolling check the eligibility criteria carefully. 
Final thoughts
Now that you are well aware of how to make a decision of choosing a country to study abroad, take a pen and a paper and introspect about the choices you are going to make in the days following by. Remember to take it slow, emphasizing the research work more with the help of your education consultant to generate the best outcomes. 
IOA global is here to introduce best possible options considering your preferences that too free of cost.  We have successfully helped more than 1500 students to live their dreams to study abroad. Our vision is to cater to Taylor-made solutions which prepare the students for every aspect of this journey from the application process to the interview round and ensure favorable outcomes. So whatever point you are in, visit us and remove your doubts at IOA Global or call us at 011-491461461 / 9654544247 / 9971403636 
More Blogs to read