The commitment to study abroad is not just prodigious but also daunting for the students. The decision to move out for overseas education is a life-changing experience, opening doors to high-quality education, global exposure, and expanding future career prospects. The decision to study abroad just doesn't bring independence to the students but also broadens their horizons to expand their knowledge while pursuing their education in some of the best universities to study abroad.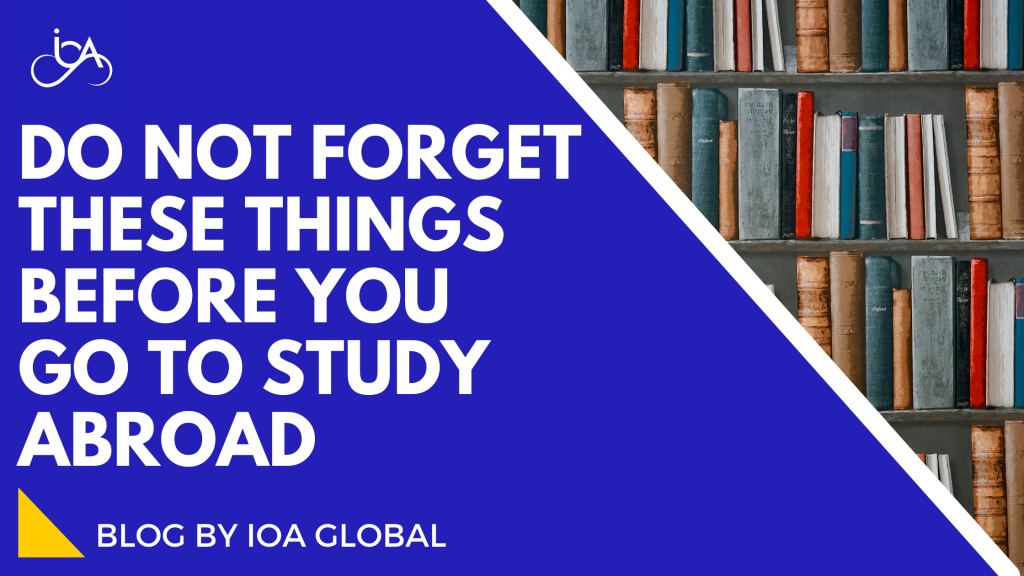 9 things one must do before flying to study abroad
The decision to study abroad just doesn't bring independence to the students but also broadens their horizons to expand their knowledge while pursuing their education in some of the best universities to study abroad. Students learn to sustain in the hardest conditions miles away from their friends and family and build a worthy life all on their own. Keeping various checkpoints on your list, we are here to put you at ease and provide you with Tips to prepare before you fly to study abroad.
1. Start with the research work 
Moving out from your home country to study abroad just doesn't lead to a huge amount being debited from your account but also is a rollercoaster of all different types of emotions. Here, students receive an education that goes a long way in their holistic development; hence picking the best from the thousands of options available is a prime criterion. This might result in dilemma, but remember to start with the basics. Pick out the subject that interests you the most first and then move on to the question, how to choose a university to study abroad, keeping academic excellence, curriculum, and resources provided as the main checkpoints. You can use the expertise of study abroad consults to explore the scope of growth for future endeavors.
2. Figure out the finances 
Now, that we have our preferable course and university in hand, let's deal with the finance part. Double-check if you have enough money to cover all the vital expenses starting from the tuition fees, cost of living, travel expenses, etc. Not to scare you, but it is a fact that you will end up spending more than you anticipated. Save some extra money before you move out to study abroad to be fully prepared for the additional expenses. It is always feasible to plan out a budget since you will be living all on your own in a completely different country. Another important tip to consider is to open a bank account in your host country so that when in need your family can have your back and send in some extra cash.
3. Spend more time on the paperwork 
This is where things might get tricky for you; hence using the expertise of study abroad consultants will save your time and effort. Submitting proper paperwork is an important eligibility criterion for the students before they head out for overseas education. Remember any discrepancy in the paperwork can result in the cancellation of the application; therefore it is extremely important to take slow and steady steps here. Be extremely careful in filling out the details of the necessary documents and submit them much in advance to avoid last-minute hassles. 
 4. Avoid mistakes to prevent cancellation of documents
All eyes in when you are filling out the documents, minor errors can cause hindrance in your journey to study abroad. A common error emitted by students when they are filling out the visa papers is, entering incorrect purpose of visit. Note down that your purpose of visit should match the paperwork. One should never provide insufficient or incorrect information to the authorities and should also be fully prepared for the interview since that is a vital criterion for selection too. 
5. Look out for accommodation 
This might seem irksome to you, after all, who enjoys finding a place to live. IOA global is here to rescue you at this stage by providing affordable student accommodation options near the universities themselves. We have joined hands with Amber students to cater to the most convenient and go-to accommodation options for the students. Many students prefer non-university accommodation for a more private and liberating experience. The process usually requires more time than anticipated; therefore remember to start the process much in advance. 
 6. Insurance time!
When you're traveling for overseas education, insurance is a must to be prepared for the worst-case scenarios. Look around for the best deals and see if any place offers student discounts. It's also a good idea to look into what kind of health insurance you'll need while you're away. In case you are on medication, don't miss out on the important prescriptions and work on your immunization before you head out. 
 7. It's packing time
You must be familiar that every airline has packing and size restrictions, hence checking with your airline before you start packing is important. Making a list of things you would need for a year is unthinkable but well who said moving out to study abroad is a cakewalk. Pack all the essentials like adapter, change-on clothes, prescriptions, wallet, etc. in one small bag. If you'll be staying somewhere for more than a few days, buy toiletries and only bring travel-size containers for the first shower after you arrive. Make sure everything has a name tag once it's all packed away. If your baggage is overweight then it will result in loss of cash from your pockets, to avoid a situation like that, keep everything in check before leaving. 
 8. Find your ride 
 Let your study abroad consultant handle this for you. Every student would require transport to travel from the airport to their respective university or accommodation. IOA global is here with Tailor-made solutions to cater to all your needs and ensure a comfortable journey. Arranging transport is something many students miss out on after investing hours in planning all the necessary requirements to study abroad. You would naturally need something to reach your destination so either take care of it in advance or let your study abroad consultant handle it for you. 
 9. Know your country 
You would want to know where you are heading to, research your destination, starting from the lifestyle, cultural diversity, languages to the weather.  If you have someone who is a citizen of that particular country, it is best to reach out to them with all sorts of your doubts. 
Capture all these memories with your family to hold onto something when you are miles away from them. Embark your journey with zeal and open doors to abundant opportunities and growth over the years. 
IOA Global is here to make this journey worth a while for you. We have successfully helped more than 1500 students to live their dreams to study abroad. Our vision is to cater to Taylor-made solutions which prepare the students for every aspect of this journey from the application process to the interview round and ensure favorable outcomes. So whatever point you are in, visit us and remove your doubts at IOA Global or call us at 011-491461461 / 9654544247 / 9971403636