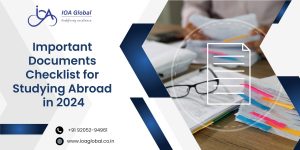 Every year, a substantial number of Indian students venture abroad in pursuit of higher education. The allure of studying in a foreign land is undeniable, with diverse cultures, world-class education, and enhanced career prospects being major driving factors. However, when aspiring to study abroad, it is advisable for individuals to be aware of the essential documentation needed for a seamless application process. Furthermore, ensuring that all necessary documents are prepared and submitted accurately is vital for securing admission to one's preferred university.
However, preparing a thorough and well-organised set of documents not only showcases an applicant's dedication and sincerity but also reflects their genuine interest in pursuing higher education in a foreign country.
List of documents:
There are multiple documents that an individual is required to submit while admitted to or studying abroad. However, the requirements of these documents differ according to different countries and abroad universities. Though certain important and common documents are given below:
Academic transcript: documentation in the form of copies of your academic credentials, comprising transcripts and certificates from high school and, if applicable, a bachelor's degree. Moreover, these documents provide a description of your academic credentials and accomplishments.
Application Form: There are two application forms that are required at the time of studying abroad. These applications include a visa application form and an admissions form. All the details concerning the background and travel plans are included in the visa application form. However, details concerning your academic qualification, interest, and course are captured in the admission form.
Curriculum Vitae (CV): A curriculum vitae (CV) is a document that contains information related to your academics, skills, work experience, interests, and extracurricular activities, if any. However, it is suggested that you specify the time period for qualifications and work experience. Additionally, the CV adds credibility to the profile of an individual.
Letter of Recommendation: Letters of recommendation are letters that teachers, employers, or professors write attesting to your academic prowess, integrity, and suitability for the chosen course. You can refer to the below format for the letter of recommendation for your study abroad application.
Format for a Letter of Recommendation:
I am delighted to provide a recommendation for [candidate's full name] in support of [specific purpose: scholarship, academic programme, job position, etc.]. I can attest to [his/her] exceptional [mention specific skills, qualities, or accomplishments, such as "leadership abilities," "problem-solving skills," and "academic achievements"] based on my close collaboration with [him/her] throughout [the duration of your acquaintance, e.g., "over two years"].
[Candidate's Full Name] consistently exhibits [specify a notable attribute or achievement, such as "extraordinary diligence and proactivity"]. [Add another positive quality, such as "a quick learner," "a team player," or "a creative thinker," to list a few.] These qualities benefit him or her and contribute to any undertaking.
I am completely convinced that [candidate's full name] will achieve success in all of his or her future endeavours. Should any additional information be required, please do not hesitate to reach out to me via [your phone number] or [your email address].
Statement of Purpose: A statement of purpose is a well-written essay that outlines your academic and professional aims. This statement highlights why you've chosen this programme and university and how studying abroad will help you achieve those goals. Students are advised to use a particular format for their SOPs, since it can boost your application. Below is the format that you can refer to for your application.
SOP Format:
First paragraph: Introduction
Second Paragraph: Academic Background
Third Paragraph: Professional experience, if any
Fourth paragraph: motivation and goals
Fifth Paragraph: Summary; highlight key areas if any are left.
English Language Proficiency Test Score: International students are often expected to provide evidence of their English language proficiency in numerous English-speaking nations. Usually, tests like the IELTS (International English Language Testing System), TOEFL (Test of English as a Foreign Language), or PTE test the English language proficiency of an individual.
The English language proficiency test evaluates four basic skills of an individual, including reading, speaking, writing, and listening.
Offer Letter: The letter of official acceptance from the institute of higher education to which you have applied. This correspondence serves as confirmation of your enrollment, the course of study, and the programme's duration.
Proof of Financial Resources: Documentation proving that you have the financial means to pay for tuition, housing expenses, and other relevant expenses is required. This may consist of bank statements, affidavits of financial support, or letters of sponsorship from parents or benefactors.
Health certificates: Basically, a health certificate is one in which the record of your vaccinations is included. Moreover, this certificate serves as proof that you are in good health. However, certain countries might have specific requirements in terms of health, so an individual moving to those countries must fulfil those requirements.
Medical insurance: Students moving abroad need to show health insurance coverage; this insurance is for the duration of their studies abroad. Most countries require that students have health insurance to cover medical expenses during their stay.
Additional documents:
Apart from the documents given above, an individual should have certain additional documents too.  Additionally, these documents include the following:
Passport
Student visa
Passport-size photographs
Proof of accommodation
Entrance test score
Portfolio
Identity card
The above-highlighted documents must be readily available to you for a smooth application process. It is advisable to contact foreign studies consultants if you are planning overseas education. Further, the abroad studies consultancy can assist you with your study abroad application. Moreover, they will make sure that you do not miss out on any particular documents while filling out the application at your dream abroad universities.
Conclusion:
Students who are planning to study abroad must keep the above-listed documents handy. To streamline the application process and increase the chances of getting accepted at your desired university, an individual should have proper documents available. The unavailability of any of the documents can lead to rejection of your application. If you are also looking to study abroad, then consult overseas studies consultants- IOA Global, for a streamlined application process.