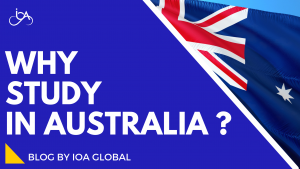 Why to choose Australia as your study abroad destination 
Do you ever sit back and think why many students choose to study abroad when it is so comfortable to travel the familiar road and explore the opportunities in your home country? Well, the pulling drive for many students is the abundant opportunities and academic excellence that results in the holistic development of the students and broadens their future prospects over the years.
Well, choosing Australia from the never-ending list of opportunities was quite a decision, maybe if you are still contemplating if this life-changing commitment to pick Australia as your ultimate study abroad destination is worthy or not, consider these reasons to help you come up with a list of answers to why study in Australia.
Let's start with some facts to help you understand why study in Australia is extremely popular among students.
Australia is home to 6 out of 100

top universities

catering high-quality education to students

Australian education system acquires 8th position by the Ranking of National Higher Education System.

With 22,000 courses across 1,100 universities, Australia provides a

list of courses

that prepare the students for the competitive environment
Australia is on the radar of many overseas students due to its top universities, welcoming nature, and vibrant cities offering diverse cultures to the students. Not just this but the country showers opportunities and resources to students to witness growth over the years. Given below are 7 possible reasons, why study in Australia is a smart decision:
1. Education is the top priority
As a student, your priority is to seek top-class education from some of the most prestigious universities across the globe, hence you shortlisted Australia as your study abroad destination. With a variety of 220 courses and home to 43 reputable universities including ECA, University of Melbourne, Monash University etc. across the globe, indeed Australia should be placed on the top of your list if considering overseas education.
2. Numbers speak for itself
Well, who doesn't rely on numbers and stats these days? And with the graph of admissions increasing every year, Australia is definitely paving its way to the top study abroad destination for the students. Acquiring the third position in the list of top countries for overseas education and main ground to immense resources for expanding career prospects, Australia continues to be a leading choice.
3. Diverse Culture makes it fun
What better than exploring diverse cultures and trying authentic cuisines with people from different cultures together on weekends? Not just flying out to study abroad brings a sheer amount of opportunities to your doors but encourages you to step out of your comfort zone to expand your knowledge and your friendship circle by meeting new people from all across the world. Being in a multicultural setting introduces you to new languages, beliefs, cultures, and how to forget the authentic dishes.
4. Acquiring Visa is not such a stress maker
Sigh in relief, because Australia is a stress buster when it comes to the student visa. Unlike many other countries, the process to apply for the visa is quite streamlined here, bringing you at ease. Definitely, the students need to fulfil certain requirements to get through this demanding process, be it showing enough funds, getting health insurance to seeking admission to one of the universities of Australia. Known for its welcoming nature and stress-free entry, Australia dominates the chart as always.
5. Easy Work Permit
Working up to 20-hours per week while pursuing education in some of the top universities in Australia, a win-win situation isn't it? Well, the universities in Australia allows flexible work permit for the students to gain industry exposure as well as handle key expenses like tuition fees, student accommodation, etc. This is a great opportunity for international students as they seek high-quality education alongside affording a living all by themselves.
6. Living costs are a bonus
If you are already overwhelmed with these reasons working in your favor, here is something to affirm your decision, which is affordable living costs and extensive scholarship opportunities by the universities in Australia. Yes! You heard it right; the living costs in Australia are comparatively lower in comparison to the United States and the United Kingdom and what just makes it perfect is the university being generous with the scholarships to ensure students get only the best resources to help expand their career prospects.
7. Extensive list of courses
No wonder that universities in Australia are among the best in the world, as they provide a wide range of degrees and majors. When you study in Australia, you have multiple alternatives and combinations to pick from, whether you want to study engineering, English, medical, or mathematics. It's a good idea to seek guidance from your study abroad consultant and pick the options that perfectly fits keeping the employment opportunities, tuition fees and teaching in mind. 
Final Thoughts 
We hope by now, you are quite convinced that Australia can be a perfect choice for you to start your journey of excellence and witness growth and multiple career prospects preparing you for the challenging environment. A degree from some of the top universities in Australia would look great on your CV dragging some of the top employers your way. 
We strive to create opportunities for students to achieve their dreams of global education by providing them with the required services. Our mission is to provide custom-tailored solutions that prepare students for every step of the journey, from application to interview, and assure positive outcomes. So, whatever stage you're at, come to IOA Global and clear your doubts, or call us at 011–491461461 / 9654544247 / 9971403636.