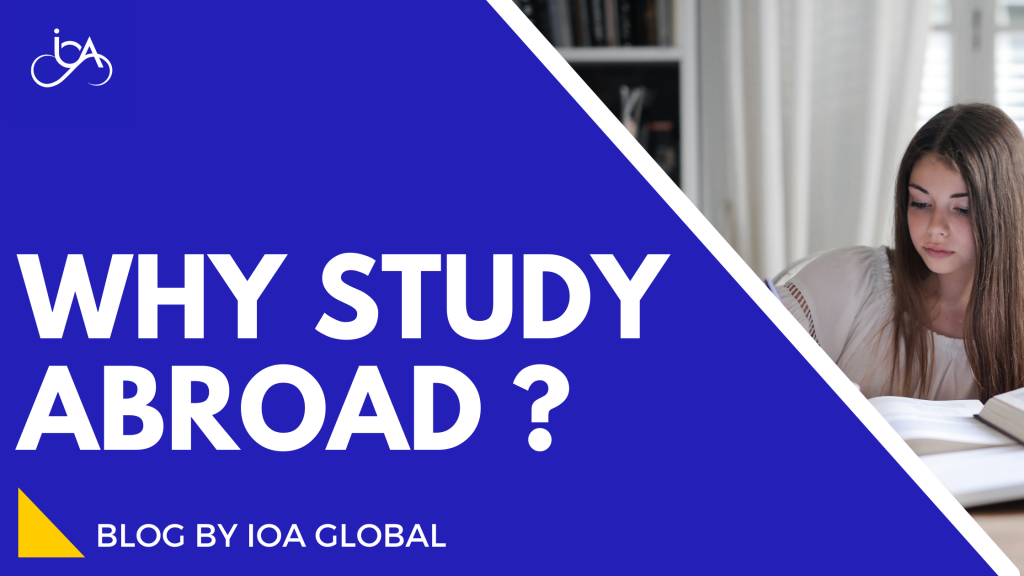 We got answers to your question "why study abroad?"
What is preventing you to step out of your comfort zone and latch the opportunity to study abroad ?
After all who doesn't want to expand their future prospects and grab a life-changing opportunity opening doors to global exposure and future development?

Here are some facts that one must know before planning to study abroad –
261,406 Indian students

travelled abroad to pursue their education

in the year 2020. 

95%

of international students claimed that pursuing overseas education worked as a catalyst for maturity and personality development. 

64%

of employers believe that pursuing education abroad is vital for the overall development of the students.

 
Well, if you are still contemplating why choose to study abroad, here is more you must know in case you are considering moving out to study abroad
1. Phew! So many courses to choose from 
One of the prime factors that make study abroad highly demanding is an extensive list of courses to study abroad for students with wider career prospects and employment opportunities. The courses are designed for the holistic development of the students and to introduce new skills as per the current industry standards. Students are prepared for the creative and challenging environment with the expertise of highly qualified faculty and industry experience of the best employers in the field. With the guidance of your study abroad consultant, pick out the perfect course keeping your interests and career prospects in mind.
2. Highlights your resume 
A degree from international universities can be a highlight to your resume, bringing the best employers from all across the globe to you. Academic excellence and focusing more on skills as per the current industry demand is what makes these universities a leading choice among employers. Your daring personality to never step back from challenging situations is something that will be highly appreciated and recognized by your future employers if you choose to study abroad. A recent study claimed that about 97% of the students were offered jobs within 6 months of graduation 

3. QS rankings speak for itself
You must consider the QS ranking when pondering over how to choose a university to study abroad. Some of the most prestigious universities as per the QS Ranking list are across the globe offering greater opportunities to build a successful career to the students. Students get to learn from the best in the industry with an opportunity to work and gather additional skills while pursuing education. Sit with your study abroad consultant and discuss all possible key points before you come up with a university and a preferable course to fly out for overseas education.

4. Explore diversity here 
Who says students will just benefit from academic excellence and immense employment opportunities. Well, the decision to move out for overseas education may seem overwhelming and daunting at first, but once you get used to the process, it can be pretty rewarding as well. You get to meet people from diverse cultures and know more about their beliefs and practices. Interacting with new people every day will not just shape your personality but also widen your knowledge about different cultures, indeed a win-win situation isn't it?

5. Financial independence is a must 
One of the most important things that you learn while you fly to study abroad is to financially support yourself. You take charge of all your expenses from tuition fees to student accommodation, which is something that prepares you with the necessary skills for the competitive environment. Stepping out of your comfort zone to manage your education alongside handling all your expenses is what brings you closer to stepping the ladders of growth over the years. 

6. What better chance to learn a new language 
Immersion is the most effective way to learn a new language and understand a new culture, according to studies. Because you'll be engaging with English speakers on a daily basis, it'll be easier for you to learn the language in a cultural context. It may appear difficult at first to live, learn, and work in English, but you'll be astonished at how soon it becomes your second nature. Confidently communicating in English can help you succeed in your academics and make new friends from all over the world, some of whom may turn into professional connections down the road. You must remember to ask your study abroad consultant about the language requirement if any in the university you have chosen for overseas education.

7. It's the weekend 
Well, what better than to explore the beautiful country on the weekend with your friends. After all, this is a once-in-a-lifetime opportunity so why not make the most of it? another reason why many students decide to study abroad is for the tremendous living experience that the country showers to you. The quality of living and the mesmerizing destinations to explore is what bring you closer to making this commitment. Visit the iconic landmarks or explore different cuisines, maybe use weekends as a shopping spree?
Definitely, this decision is not just overwhelming but extremely challenging, introducing you to situations that mold you into your better self.  Not just you will attract abundant opportunities leading to holistic development but also make memories that will stay by your side all your life. Hopefully, now you have enough reasons to answer your question of why study abroad, so why waste any more time let's get to work.
IOA Global is here to make this journey worth a while for you. We have successfully helped more than 1500 students to live their dreams to study abroad. Our vision is to cater to Taylor-made solutions which prepare the students for every aspect of this journey from the application process to the interview round and ensure favorable outcomes. So whatever point you are in, visit us and remove your doubts at IOA Global or call us at 011-491461461 / 9654544247 / 9971403636