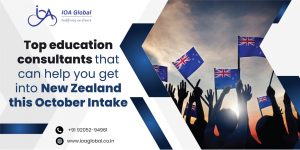 New Zealand is an excellent destination for international students seeking a world-class education in a welcoming, multicultural environment. Renowned for its high-quality education system, the country offers a diverse range of academic programmes and institutions, including prestigious universities and specialized colleges. With a strong emphasis on research and innovation, students have access to state-of-the-art facilities and cutting-edge technology. Additionally, the country's commitment to safety and social welfare ensures a secure and inclusive experience for all students, making it an ideal destination for those seeking an enriching and unforgettable study abroad journey.
International students have a wonderful opportunity to begin their studies in New Zealand in the October intake. Students have access to a variety of academic possibilities because of the several universities and other organizations that offer a wide range of programmes. The spring season coincides with the October intake, giving newcomers a comfortable environment to settle into.
Here is a list of the best education consultants in India, and they may assist you in applying to New Zealand for the October intake.
Google searches for "best study abroad consultants near me" turn up IOA Global as one of Delhi's top educational consultancies. They were founded in 2006 and assist students with housing advice, IELTS, PTE, visa applications, counseling, course selection, and university selection using cutting-edge techniques. Students have access to experts who can assist them, answer their inquiries, and facilitate their entrance to the universities of their choosing. They will assist you in selecting the best university, whether it is an autumn or spring intake. The experts will help you meet all the dates for the October intake in New Zealand. With their help, students can select the most advantageous and affordable nation. IOA Global is among the best-researched companies.
Website-  https://ioaglobal.co.in/
Address: I-59/60, Lajpat Nagar, New Delhi, 110024
Contact number: +91 9205294961
In India, IDP is the industry leader and a well-known brand when it comes to placing foreign students. They offer a range of services, including assistance with applications, recommendations on universities, and assistance with visas. Due to their broad network of contacts with universities throughout the world and the specific assistance and support that their knowledgeable counselors provide during the entire process, they are a well-liked choice among students. They will support you throughout the entire application process for the October intake in New Zealand. Usually, students prefer to study in New Zealand, as it is the cheapest country to study abroad for Indian students.
Address: Rajouri Garden, Nehru Place, Noida
Leap Scholar seeks to establish a network of gifted Indian students desiring to pursue higher education overseas. Their goal is to support aspiring global leaders as they pursue their careers abroad. Leap Scholar provides comprehensive guidance on the admissions process and will inform you of all the rules and regulations to adhere to while submitting a study abroad application. However, whenever you search for "study abroad consultants near me", Leap Scholar might be the name that pops up.
Address: 51, 12th Main Rd., Sector 6, HSR Layout, Bengaluru, Karnataka 560102
Akshay Chaturvedi debuted Leverage Edu at the beginning of the year. For students from Nepal, India, Nigeria, and other developing countries looking to enroll in institutions overseas, he created the best application procedure. The best New Zealand universities for international students wishing to target and pursue higher education in this October intake will be disclosed to you. In order for students to utilize the resources and accomplish their objectives, they offer every service they can and assign each one to a committed mentor.
Address: Windsor Grand, Raipur Khadar, Noida, Uttar Pradesh, 201313
Edwise Foreign, one of the top consulting companies for international education, provides specialist advising services and puts equal focus and effort into each step of the study abroad process. The company is dedicated to providing students with a rich and inspirational study abroad experience in order to help them get accepted into the colleges of their choice. The New Zealand universities that will be taking students in October will therefore be your top choices.
Address: South Extension I, New Delhi
New Zealand stands out as an excellent destination for international students seeking a world-class education and a multicultural experience. New Zealand is also renowned as the cheapest country to study abroad for Indian students. Apart from a high-quality education system, the country also offers a diverse range of academic programmes and institutions, with a strong focus on research and innovation. The October intake provides a wonderful opportunity for students to begin their studies with access to various academic possibilities and a comfortable environment during the spring season.