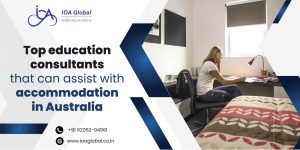 Australia has a robust educational system, as well as universities and other academic institutions that provide a broad range of academic degrees and specialties. Australia is a desirable location because it provides its students with a high standard of living and a secure environment. Furthermore, the cosmopolitan lifestyle of the nation offers international students a kind and diversified community. Australia's natural beauty, energetic cities, and possibilities for exploration and adventure only serve to increase its allure.
Finally, Australia is a popular alternative for many students seeking a global education because of the post-study job opportunities and the chance to get relevant international work experience. Australia has established a reputation as the greatest study abroad location because it is the cheapest country to study abroad for Indian students. 
International students have a variety of accommodating housing alternatives in Australia. On-campus accommodation is available at many universities and colleges, offering convenience and the possibility to live with other students. Renting an apartment, living with another person in a house, or staying with a local family are additional off-campus choices. While living expenses differ between provinces and localities, some universities also aid students in locating appropriate housing.
You can discover the greatest accommodations in Australia with the assistance of the top education advisors in India, who are listed below:
IOA GLOBAL – 
When individuals look for "best study abroad consultants near me" on Google, IOA Global is one of the top educational consultancies in Delhi. Founded in 2006, they assist students with housing advice, IELTS, PTE, visa applications, counseling, course selection, and university selection utilizing cutting-edge techniques. Students have access to professionals who can help, answer their questions, and make it easier for them to get into the colleges of their choice.
They will assist you in selecting the best university and the greatest lodging options nearby that university, whether you are applying for an autumn or spring intake. To fulfill all of the deadlines for the accommodations, you will get help from the experts. With their advice, students can select the most advantageous and reasonably priced accommodations.
Website-  https://ioaglobal.co.in/
Address: I-59/60, Lajpat Nagar, New Delhi, 110024
Contact number: +91 9205294961
IDP EDUCATION – 
When it comes to placing foreign students in India, IDP is the market leader and a well-known brand. They offer a range of services, including assistance with applications, recommendations for institutions, and assistance with visas and lodging. Because of their broad network of links with universities throughout the globe and the specialized guidance and support that their expert counselors provide throughout the entire process, they are a well-liked choice among students.
They will support you as you search for the ideal accommodations. As the cheapest country to study abroad for Indian students, Australia is frequently the destination of choice for students.
Address: Rajouri Garden, Nehru Place, Noida
LEAP SCHOLAR –
Talented Indian students should get in touch with LeapScholar if they want to pursue higher education abroad. Their objective is to assist future world leaders as they hunt for work overseas. Leap Scholar provides in-depth guidance on the accommodation procedure in Australia and will inform you of all the rules you must adhere to when finishing the procedure. However, Leap Scholar, meanwhile, can come up as the top result if you type "study abroad consultants near me" into a search engine. 
Address: Sector 6 of HSR Layout in Bengaluru, Karnataka, 560102: 51, 12th Main Rd.

LEVERAGE EDU –
With Akshay Chaturvedi, Leverage Edu made its debut at the beginning of the year. For students from Nepal, India, Nigeria, and other developing countries wanting to enroll in universities overseas, he created the best application process and assisted them in finding housing. You'll learn about the best services offered by institutions to international students who want to target and pursue higher education.
Address: Windsor Grand, Raipur Khadar, Noida, Uttar Pradesh, 201313
EDWISE – 
Edwise Foreign, one of the leading consulting companies for international education, offers specialized advising services and puts equal focus and effort into each step of the study abroad process. Moreover, for students to be admitted to the universities of their choice, the organization is committed to giving them a rich and inspiring study abroad experience. In addition, they assist students in locating the best on- or off-campus housing options.
 Address: South Extension I, New Delhi
Australia's robust educational system, high standard of living, secure environment, diverse and cosmopolitan lifestyle, and stunning natural beauty make it a desirable study destination for international students. The country offers a range of accommodating housing options, including on-campus residences and off-campus choices like renting apartments, sharing houses, or staying with local families.