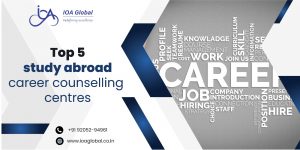 Every second student these days is in a dilemma as to which course they should pursue and from where. To resolve this problem and take students out of this dilemma, various career counselling centres have been set up. However, there are certain students who wish to study abroad but, due to a lack of knowledge, put their dreams on hold. Perhaps this problem of students is resolved by study abroad career counselling centres.
Here is a list of the best study abroad career counselling centres in India to assist students:
IOA Global:
IOA Global has been shortlisted as one of the top study abroad career counselling centres in India. Any student who is confused about their career choice can consult IOA Global for the best study abroad career counselling. Experts at IOA Global show students the right path to take to choose the best course and university accordingly. Their guidance is not limited to showing them the right direction but also assists them in fulfilling their dream of studying abroad. They ensure that each student approaching their centre will achieve milestones in their lives ahead. However, to study abroad, students need to appear for the IELTS exam. IOA Global, being the best study abroad consultants in India, doesn't let you struggle on this journey alone. They are renowned for providing students with the best IELTS coaching in Delhi.
Visit the official website at https://ioaglobal.co.in/.
Contact No.: +91 9205294961
Edwise International:
Expert counsellors at Edwise International are looking forward to helping and guiding the students who are in dilemma. Edwise International gives the best advice to students relating to their career. The experts at Edwise International look at the past performances of students to suggest the perfect course and university they should study at.
Contact No.: +91 1800 102 0336
GeeBee:
GeeBee is also one of the leading study abroad career counselling centres, allowing students to make the right career choices. They have acquired the reputation of being one of the best career counselling centres in India and is concerned with embracing the students. They have answers to all the questions of students relating to studying abroad. As per the interest of students, they believe in suggesting to them the best possible solution.
Contact No.: 072900 59900
SI-UK:
SI-UK is popular for counselling students who are aspiring to study in the UK. They specialise in giving students in-depth career counselling. Their study abroad counsellors will assist students in deciding which course and university they should opt for. The career counselling at SI-UK broadly focuses on promoting the UK as a study destination for students.
Contact No.: 1800 309 9008
KC Overseas:
KC Overseas consultants are well-known in career counselling centres, which do not limit themselves to assisting students at every step. They show students the right way to choose the perfect path in their life ahead relating to their career. The effective team of counsellors at KC Overseas does not hold back and believes in serving the students with the best possible options to study abroad.
Contact No.: +91 8669602483, +91 7122222061