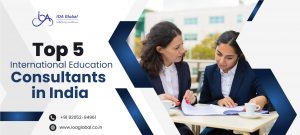 The role of overseas education consultants is to guide students who are struggling to find the right academic path. Multiple other services are offered by overseas consultants, including counselling, application assistance, test preparation, and visa advice. They can help and support students who may feel burdened by the idea of going abroad to study. Most international education consultants assist you in qualifying for IELTS by providing you with the best training. You can get the best IELTS coaching in Delhi from the consultants given below.
Here are some of the best-known international education consultants in India who are happy to assist students who are aspiring to study abroad:
Infinite Opportunities Abroad (IOA Global):
IOA Global has been accredited as one of the top international education consultants in India. Experts at IOA Global look at the previous performance of students and suggest the perfect course. The team at IOA Global is focused on helping students achieve their dreams. Even so, they provide students with IELTS or PTE training. At IOA Global, the effective team of counsellors doesn't hold back and believes in giving students the best choices for studying abroad.
Leveraging technology and data analytics can help both students and schools make better decisions and communicate better. IOA Global is renowned in India for providing the best career counselling for students who are aspiring to study abroad.
Visit the official website at https://ioaglobal.co.in/. 
Contact Us: IOA Global Office (I-59/60, 1st Floor, Lajpat Nagar, New Delhi, 110024)
Phone No.: +91 9205294961
KC Overseas Education:
KC Overseas Education is an educational consulting company that helps students who wish to pursue higher education abroad. They have partnerships with a range of universities and colleges around the world that allow them to support students in finding the academic programme and institution that best suit their needs and interests.
Contact No.: +91 8669602483, +91 7122222061
Edwise International:
Edwise International is an educational consultancy specialising in providing guidance to students who are considering studying abroad. Their expertise and experience can help students manage the difficult process of applying to and enrolling in an overseas school. The company has a team of experienced counsellors who can help students with each step of the process in an original manner. Edwise International is an educational consulting firm in India that is well-known and trusted.
Contact No.: +91 1800 102 0336
iSchoolConnect:
iSchoolConnect provides students with a variety of services, including personalised career counselling and guidance, test preparation, and application process assistance. Their platform includes tools such as application tracks to assist students in meeting due dates and requirements. The goal of iSchoolConnect is to make the process of applying to universities faster, clearer, and easier for students all over the world.
Contact Us: (+91) 9145332283
IDP Consultancy:
IDP Education is a global educational consulting company that offers a variety of services to international students. The company's partnerships with more than 700 universities and colleges worldwide allow them to assist students in finding the best university and course. In addition to its main services, IDP Education offers test preparation assistance for exams such as the IELTS, TOEFL, and PTE.
Contact us: 1800 102 2233