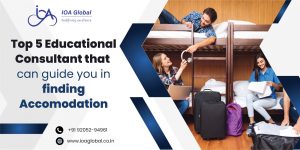 Accommodation is the biggest concern when planning to study abroad. Students can choose from a variety of housing alternatives while studying abroad. It's crucial to take into consideration other factors like safety, closeness to the educational institution, pricing, and your own preferences when choosing accommodations. Below are listed some housing types available for international students:
On-campus housing: Several colleges and universities provide on-campus housing options like dorms or student apartments.
Homestays: Homestays involve residing with a local host family, providing an immersive cultural experience.
Shared rented apartments: Students can also rent a flat together. It provides additional freedom, flexibility, and the opportunity to split costs.
Private flat: You may have more privacy and flexibility if you rent a private flat or home.
It is advisable to get advice from your study abroad programme coordinator or the university's international office. Therefore, to solve your queries, we bring you the top 5 educational consultants who can help you find good housing while studying abroad. 
IOA Global is one of the leading educational consultants in Delhi. You can simply find them on google by typing study abroad consultants near me. They were founded in 2006 and have a cutting-edge concept for assisting students with their IELTS, PTE, visa application, counselling, course selection, university selection, and also accommodation guidance. Experts of IOA global assist their students in researching the best housing facilities.They will guide you throughout your journey and make it easy for you to find well-furnished accommodation while studying abroad. The faculty at IOA Global is committed to fostering a welcoming atmosphere for students where they can feel at home. They will help you find the best country to study abroad- even if you prefer the cheapest country to study abroad for Indian students. Just check out study abroad consultants near me for more such information. 
 Official website: https://ioaglobal.co.in/ 
Address: I-59/60, Lajpat Nagar, New Delhi, 110024 
Contact no.: +91 9205294961
Are you worried about locating the ideal accommodation for your international studies? Dormitories/Flats/Homestay? Azent specialists are available to help you if this is the reason you are a little hesitant about studying abroad. Azent consultants are very committed to professional and educational growth. They are committed to delivering international education to students' doors across India. They will guide you best while searching for accommodation in overseas countries. They will help you with all the rules and application process much earlier.
Address: 401, 4th Floor, ABW Tower Iffco Chowk, Sector 25 Landmark, Opposite Westin Hotel Gurugram, 122001, Haryana, 122003 
IDP Education can assist you in selecting the right residence through their dependable housing partners in Australia, Canada, the United Kingdom, the United States, and New Zealand. Additionally, they have access to some special IDP prices and discounts. For assistance selecting the best choice for you, use their comparison tool or speak with any IDP counsellor. They can even guide through the cheapest country to study abroad for Indian students. 
Address- Rajouri garden, Nehru place, Noida
The team of counsellors works with your parents and you to determine the kind of housing that would be most appropriate for you. They consider factors like safety, travel time, cost, quality of life, and college timing when advising you on making the choice between on- and off-campus accommodation. They can assist you in locating neighbourhoods in the city of your preference that are friendly to international students.
Address: 411 International Trade Towers, Nehru Place, New Delhi-110019 
Rao Consultants has connections with lodging providers in every major city. Private rooms and private apartments are among the options available to you for both long and short stays. These areas can be equipped in whole or in part. Additionally, you have the option of choosing a meal package that includes breakfast and dinner or self-catering, where you can buy or make your own food. A house stay with an Indian family as a paid guest or with one of their current students who currently resides there is another option they can provide.
These are a few educational consultants who can guide you and help you find your living space based on your type of preference.