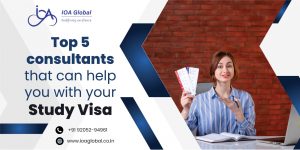 Consultants are people who provide you with advice regarding a specialized topic. They help you gain knowledge and information about the specific areas you are targeting for studying abroad. Many students consult their respective consultants to get the whole theory about their areas of interest. A consultant can answer questions about how to do something, what will be the next step towards your goals, what training is necessary to rank in good universities, the types of documents needed, the best universities to apply to, and many other similar questions. Let's consider five popular consultants to guide your way through your goals and career.
BEST STUDY ABROAD CONSULTANTS IN INDIA:
Below are listed a few of the best study abroad consultants in India that assist students in achieving milestones. Since IELTS is required to study abroad, most of the study abroad consultants provide students with the best IELTS coaching in Delhi.
Infinite Opportunities Abroad (IOA Global)
IOA Global is one of the best study abroad consultants in India. IOA Global not only provides free counseling sessions but also helps in the application of student visas. If you are looking for the best opportunities in your career for studying abroad, then we assist you in directing towards your desired career. IOA Global also guides you through different countries and their work cultures. Even so, they provide students with IELTS coaching in Delhi. IOA Global wants their students to extend their careers and goals in the best possible ways so that they can explore more of the world.
For more information, here's the contact listed to connect with IOA Global:
             Visit the official website at https://ioaglobal.co.in/. 
             Contact Us: IOA Global Office (I-59/60, 1st Floor, Lajpat Nagar, New Delhi, 110024)    
Phone No.: +91 9205294961
IDP is an international education specialist who provides free counseling sessions to students and helps with visa lodging. IDP provides you with services like advice for your courses,IELTS training, visa application assistance, free counseling, and deciding on the best courses at the best universities. IDP is one of the finest global leaders in educational services and can help you with your student visa.
CONTACT: 1800 102 2233
iSchool Connect is an online and AI-based platform that makes studying abroad hassle-free for students and provides them with good opportunities. Their policy includes various services, like application tracks, to assist students in meeting due dates and requirements. The goal of iSchoolConnect is to support students in achieving their required objectives and plans. They help with the smooth application of students applying abroad.
             Contact Us: (+91) 9145332283
Edwise International helps you apply to colleges and universities around the world. Edwise International is an educational consulting firm in India that is well-known and trusted. They represent over 850 universities for students and provide well-curated services to help you grow in your career. They offer personalized counseling services with many years of experience.
           Contact No.: +91 1800 102 0336
Build your bright career by consulting KC Overseas Education for your student visa as well as training programmes to build your standard of living in overseas countries. They help the students in the IELTS training programme and assist students in reaching their dream countries from their 65+ offices around the globe.
            Contact No.: +91 8669602483, +91 7122222061