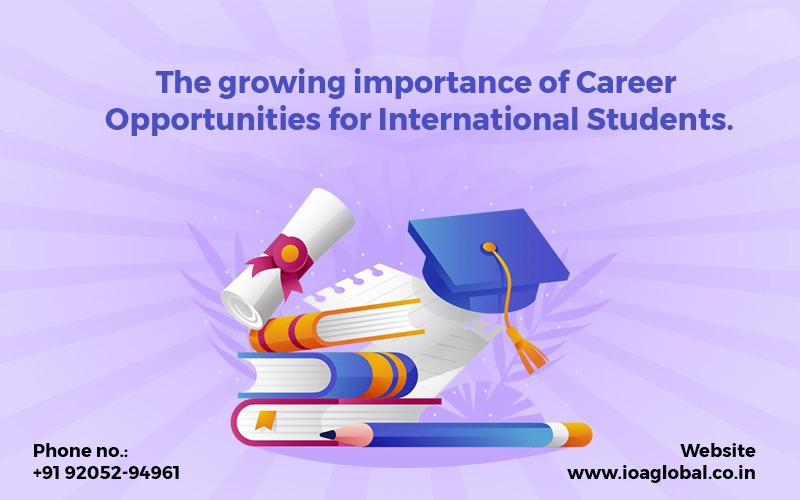 Honing skills, learnings, and experiences to pave a path towards leading opportunities and global exposure is a dream for most in our generation which forges them to walk on the path of quality education. When we talk about quality education along with practical parameters of implementing that knowledge, overseas education leads the chart. A recent study claimed that 1 out of 5 students move out to study abroad due to surging opportunities, training programs from leading employers of the world, and most definitely quality education which shapes their personality. Experts study claims that the present generation is focal on the career opportunities coming their way which makes them think in a way that they have one chance at everything- be it career or future opportunities. However, the pandemic did affect the flow and numbers of student enrollment due to numerous restrictions placed on the entry criteria. Starting from vaccines, and quarantine restrictions to delays in visas, students were forged to delay their plans of studying overseas.
The average time for a visa interview date in the United States of America is 49 days which is up to 7 or 10 weeks. Structural issues like Visa delays and flight availability affected the dates of visa interview appointment dates hence postponing plans of students to study abroad. However, after the substantial backlogs and massive delay in the number of student enrolments, situations resumed to normal after post-pandemic levels or the opening of border restrictions by the authorities. Countries like the United States of America and the United Kingdom were consistently pushing to make amendments to resolve the current crisis in the international education system. Researchers pointed towards valid reasons on why most students are trusting overseas education for their careers. Anonymous research findings point out that the past generations were more focused on education over career opportunities, they thought having a job amidst pursuing education was frowned upon, however, the rapid growing industry has changed the ways of thinking. Students cannot imagine having hands-on experience along with theoretical knowledge to match as per the industry standards.
For students, investing in a global future obtained by studying abroad is the biggest investment which will soon be their biggest asset. The work demand programs, modulus designed by the experts transforms them into an industry standardized version, which is demanded by the majority of employers that too the leading ones. Students don't only cross paths with new learnings both practically and theoretically but all experience cultural diversity by encountering new people with altogether new mindsets and values.
It is extremely essential for the institutions to welcome diversity and be reluctant about it in order to encourage the transition of more and more students. No matter how difficult the situation initially seems, the variety of job benefits it brings with it will be quite rewarding. As well as enhancing your resume with a degree from one of the top colleges, your capacity to become at ease in challenging conditions will say a lot about your personality.
We hope that the advantages of studying abroad for a job could persuade you to do so. Moving out to study abroad can really increase your knowledge and open up countless prospects for you because there are no limits to how far you can rise. It is best to get the advice of your study abroad advisor in order to compile a list of the top colleges and courses in your intended study abroad location.
IOA Global is here to help you make this journey worthwhile. More than 50,000 students have benefited from our assistance in realizing their ambitions of studying abroad. Our goal is to provide custom solutions that ensure positive outcomes by preparing students for every step of this journey, from the application procedure through the interview stage. Therefore, wherever you are in the process, contact IOA Global to clear up any questions you have at 011-491461461 / 9654544247 / 9971403636.