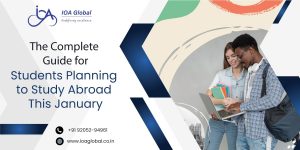 Studying abroad is an exciting and life-changing experience. It opens up a world of opportunities for personal growth, academic advancement, and cultural enrichment. However, making the decision to study in a faraway land comes with its own unique set of challenges and considerations. Even while applying to different universities, students face difficulty, so in that case, students can consult abroad studies consultant in India. The study overseas consultants will assist students in getting well-prepared for their successful and fulfilling journey.
But why does a student opt for the January intake? Let's explore the important aspects of why students should study abroad in January and what they should keep in mind when starting their study abroad adventure.
Why study abroad in the January intake?
The January or spring intake holds a special place in the hearts of Indian students aspiring to study abroad. It stands as the most renowned and sought-after intake for starting educational journeys overseas. This preference arises from the fact that nearly all universities open their doors for admissions during this intake, presenting a multitude of options for those seeking higher education opportunities.
Easy admission process: Opting for the spring semester intake increases your chances of getting admission to your desired university. On the other hand, fall intake may limit your choices, as not all universities accept applications during that period.
Internship and Job Prospects: By enrolling in the spring intake, students become eligible to apply for internships after completing two semesters. This opportunity is open to students who have applied for the January intake, which can lead to promising job offers.
Research and Assistantship Opportunities: International universities typically hire research assistants and researchers starting in the mid-fall semester. Enrolling in the spring semester provides students with the chance to work as research assistants early in their academic journey, which will benefit them.
Here are certain important things that students should keep in mind while moving to a different country to study abroad:
Pre-plan accommodation: When preparing to study abroad in the January intake, arranging accommodation in advance is a crucial step considering the latest news. This ensures that students have a place to stay upon arrival. However, it is advisable to book university housing or homestays well ahead of time to guarantee a smooth transition into your new living arrangements. By taking care of this in advance, you can avoid the unnecessary stress of finding suitable accommodation after arriving in a foreign country. Plus, when you pre-book your accommodation, you will certainly have more.
Cultural Adaptation: Moving to a different country means encountering a whole new culture. Every country has its own unique customs, traditions, and ways of life. Therefore, it's essential for students planning to study abroad in January to acquaint themselves with the local culture of the host country. Understanding the local customs and norms will help you integrate more easily into the community and make the most of your experience abroad.
Understanding Work Hour Regulations: Each country has its own regulations regarding part-time work for international students. These regulations can vary significantly, including limitations on the number of hours you can work during the academic year and vacation periods. To avoid any legal issues and make the most of potential job opportunities, it's crucial to thoroughly research and understand the work-hour limitations in your host country before you arrive.
Setting Up a Local Bank Account: Upon your arrival in the host country, opening a local bank account is a practical step. This bank account will facilitate financial transactions and make managing your finances more convenient. You'll be able to pay for daily expenses and handle financial matters within the country with ease. It's advisable to research different banks and their account options to choose one that suits your needs.
Emergency Contact List: Safety and preparedness are crucial when studying abroad. Create a proper emergency contact list that includes local authorities, university contacts, and the contact information for your country's embassy or consulate in the host country. This list should be easily accessible in case of any unexpected situations. Additionally, sharing this list with a trusted friend or family member back home ensures that someone close to you is aware of your emergency contacts.
Document Preparedness: Ensuring you have all the necessary documents in order is critical. These documents include your passport, visa, acceptance letter from your university, academic transcripts, and relevant medical records. Keep these documents in a secure location that is easily accessible, such as a travel folder or wallet with zipper compartments. It's also wise to make photocopies of these documents and carry them separately from the originals in case of loss or theft.
Currency Familiarity: Familiarising yourself with the local currency of the host country is practical for day-to-day living. Understanding the currency's denominations and exchange rates will help you make quick and accurate payments. You can exchange currency at local banks or currency exchange centres, or even use international currency exchange apps to stay updated on exchange rates. This knowledge will make your financial transactions smoother and more efficient during your stay abroad. These additional points will help you better prepare for your study abroad journey and navigate the various aspects of living and studying in a foreign country.
Conclusion:
Studying abroad is a remarkable opportunity for personal and academic growth. However, it requires careful planning and preparation to overcome the challenges that come with living and studying in a foreign country. By following the guidelines highlighted in this article, students can make a smooth transition and make the most of their international education experience. From securing accommodation and adapting to a new culture to understanding work regulations and financial management, each aspect plays a vital role in ensuring a successful study abroad journey. By being well-prepared and informed, students can start on this exciting adventure with confidence and maximise the benefits of studying in a different country.
Consult the best foreign studies consultants in India- IOA Global.