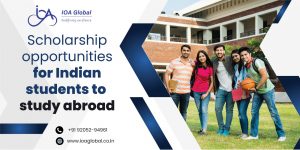 Every second person has a dream of pursuing their higher education abroad. However, the amount of expense involved in studying abroad makes it a costly affair. But students need not worry, as there are a number of scholarship opportunities available to them. The scholarships can be effective in reducing the financial burden of studying abroad for an individual.
Here are some common scholarship opportunities for an individual aspiring to study abroad:
Government scholarship:
The Indian government grants a number of scholarships to help international students pursue higher education. Scholarships for Indian students are provided by the Ministry of Education, the Ministry of External Affairs, and various other government departments on the basis of academic merit, financial need, and other criteria.
Some common scholarships provided by the Ministry of Education are:
The National Overseas Scholarship for Scheduled Castes
The National Overseas Scholarship for OBC Students
Dr. Ambedkar Scholarship for Studying Abroad
Private Scholarships:
There are multiple private organisations that grant scholarships for Indian students to study abroad. Each private organisation has set criteria for granting scholarships, which can be on the basis of academic merit, financial needs, or the individual's interests.
A few such scholarships provided by private organisations to study abroad are:
University Scholarships:
Just like private organisations and the government, universities also grant scholarships to students planning to study abroad. There are universities that offer need-based scholarships to some students.
A few popular university scholarships provided are:
Fulbright Scholarship: The Fulbright Scholarship is a merit-based scholarship that allows Indian students to enrol in graduate programmes in the United States.
Chevening Scholarship: The Chevening Scholarship is run by the UK government and gives grants to Indian students who want to go to university in the UK.
External Scholarships:
Apart from the government, private organisations, and universities, there are certain external organisations that provide students with scholarships. The scholarships offered by external organisations may be given for a specific discipline of study or be available only to students from certain regions.
Some of the popular external scholarships that are offered to students include:
The Rotary Peace Fellowship: Indian students are offered this scholarship for pursuing a master's degree in peace and conflict resolution at one of the Rotary Centres.
DAAD Scholarship: The DAAD Scholarship is helpful for Indian students to fund their postgraduate studies in Germany.
To conclude, every year, thousands of scholarships are provided to students aspiring to study abroad. These scholarships will ease the financial burden on students studying abroad. Students can research and apply for scholarships at the right time to increase their chances of getting one. Indian students can use scholarship opportunities to fulfil their dream of studying abroad if they make an effort.