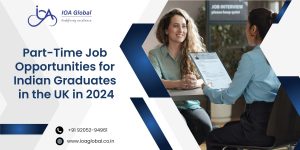 International students choosing the UK for their studies often actively explore part-time job opportunities to make the most of their time abroad. Beyond the academic realm, they seek ways to both learn and earn, contributing to their overall experience. Understanding the financial strain that studying in the UK may pose, the UK government has implemented specific measures to address this concern, facilitating international students in balancing their academic pursuits with part-time employment opportunities.
Why are part-time jobs beneficial for international students?
Part-time jobs in the UK for international students hold significant importance.
Financial Relief: Pursuing education in the UK can be financially demanding for Indian students. Part-time employment serves as a means to alleviate some of these financial pressures. By working part-time, students can cover crucial expenses like accommodation, food, transportation, and other day-to-day costs, reducing their reliance on external funding sources.
Networking Opportunities: Engaging in part-time work offers students the chance to interact with a diverse array of individuals. These interactions provide a platform to cultivate professional relationships and networks that could be beneficial for future career prospects.
Work Experience: Part-time jobs offer invaluable hands-on experience that goes beyond academic learning. Students acquire practical skills and insights that endure beyond their academic tenure, enriching their overall skill set and boosting their employability.
Skill Enhancement: Beyond financial gains, part-time employment fosters personal development. Students gain essential life skills such as time management, effective communication, and organisational abilities. These skills are not only useful in the workplace but also contribute significantly to their personal growth and adaptability in various situations.
Base pay for a part-time employee in the United Kingdom:
The average pay per hour for a part-time job in the UK depends on multiple factors, including the age, type of employment, industry, and skills of the individual.
Average pay per hour as per job role:
| | |
| --- | --- |
| Job Roles | Average Pay Per Hour |
| Waiter/ waitress | GBP 12.53 (1300 INR) |
| Customer Service Representative | GBP 9.65 (1000 INR) |
| Cashier | GBP 8.7 (900 INR) |
| Accountant | GBP 11.5 (1200 INR) |
| Library Assistant | GBP 12.5 (1300 INR) |
| Delivery Agent | GBP 7.7  (800 INR) |
| Marketing Representative | GBP 11.5 (1200 INR) |
The figures given above in the table are subject to change.
Eligibility criteria to work as a part-time worker in the UK as an Indian graduate:
The eligibility criteria to work as a part-time employee in the UK as an Indian graduate in 2024 largely depends on certain primary factors, including visa types, university consent, government regulations, etc.
Work restriction: An Indian student studying in the United Kingdom can only work 20 hours per week during the academic year. During the summer breaks, students are permitted to work full-time. On the other hand, some universities or students pursuing lower-level courses might be allowed to work only for 10 hours a week.
Visa type: If an Indian graduate is planning to work as a part-time employee, then they must possess a Student Tier 4 visa. Under a Tier 4 visa, students are allowed part-time employment.
University consent: There are provisions at some universities that require first-year students to obtain proper consent from the administration before working as a part-time employee.
Work type allowed: Students must be aware that they cannot be self-employed or run their own business while they are studying in the UK.
It is advisable to check with the company hiring you regarding the eligibility criteria, so that you should not miss out on anything.
Laws governing part-time working policies in the UK:
The Government of the United Kingdom has certain regulations concerning part-time jobs in the UK. International students need to accept the regulations laid down by the government of the UK to avoid any problems in the future.
For degree level or more, international students can work up to 20 hours per week.
Full-time work is not allowed until you have a valid and relevant visa.
During summer breaks, students can work up to 40 hours per week.
Students should adhere to these laws to avoid any serious issue at the later stage.
Where to look for part-time jobs in the UK?
It becomes quite tricky to find a part-time job while in the UK. Even if the job is right in front of the individual, they might miss it. So, here are a few sources that international students can use to their advantage to find a relevant part-time job:
University Website: The universities, to keep their students updated with the part-time employment opportunities, post jobs on their websites. Students can regularly check their university's website to learn more about on-campus jobs at the university.
Job search portals: Job search portals are another fruitful way to find a part-time job in the UK. There are multiple online portals available for easy job searching.
Newspaper: If international students are looking for part-time jobs locally, then newspapers are the best way to find part-time jobs. It is advisable to keep a regular check on the newspapers.
Career team at the university: Most universities, in an effort to assist students, have proper career centres and teams to support international students in finding jobs.
Apart from the options given above, students can get a recommendation from a friend or relative in the country to work at a particular place.
Conclusion:
The trend of part-time jobs among students, particularly international students, is on the rise. These roles offer diverse opportunities and often come with competitive pay rates. Engaging in part-time work can significantly benefit individuals in various aspects, although it requires adherence to specific government regulations.
In recent years, the UK has emerged as the best country to study abroad for Indian students. Consequently, many students eyeing the UK as their study destination also consider the prospect of securing part-time employment opportunities. If you are one of them who wishes to study abroad, consult the overseas studies consultants at IOA Global.
IOA Global is one of the best abroad studies consultancy in India. Students can connect with them to get their queries regarding universities abroad and studies in abroad resolved.