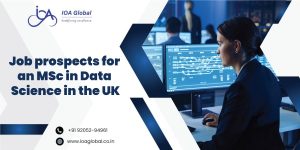 The United Kingdom has earned a well-deserved reputation as an exceptional study abroad destination, attracting both international and domestic students. However, in recent years, it has evolved into a standout job market, catering to individuals from various backgrounds. The diverse job landscape ensures that everyone can find a suitable position that aligns with their skills and preferences.
Particularly noteworthy is the promising outlook for data science graduates in the United Kingdom, where the field is experiencing significant growth. This opens up abundant opportunities for those with expertise in this dynamic and sought-after domain.
Jobs after an MSc in Data Science in the UK:
There are many job prospects for an individual with an MSc in Data Science in the United Kingdom. By earning a masters abroad, an individual can open many prospects for themselves in the same field. Below are some jobs you can opt for after an MSc in Data Science in the United Kingdom:
Quantitative Analyst or Quantitative Developer:
With a solid foundation in programming, mathematics, and statistics, a quantitative analyst (abbreviated as "quant") is a finance expert. Their main responsibility comprises the construction of intricate mathematical models and the application of data analysis to identify patterns and trends within financial markets. A quantitative developer, conversely, works in close collaboration with quants to convert these complex models into executable, practical programmes. Developers and quantitative analysts both make significant improvements to the capacity of the finance sector to navigate the complexities of contemporary markets and make informed decisions.
Salary range: £41,000–£68,000 per year
Top companies recruiting quantitative analysts or quantitative developers: Barclays, JP Morgan Chase & Co., Goldman Sachs, Citi, and Bank of America.
Data Scientist:
A data scientist is a highly proficient individual who employs their skills in programming, statistics, and insights of significant value from extensive datasets. Data scientists utilise a blend of statistical methodologies, machine learning algorithms, and data visualisation strategies in order to reveal trends and patterns that facilitate well-informed decision-making for organisations. Moreover, data scientists assume an essential role in extracting practical insights from extensive quantities of information.
Salary range: £42,000–£68,000 per year
Top companies recruiting data scientists: Tesco, NHBC, Citi, Wiliot, and Cromwell Group
Machine Learning Engineer:
An individual with expertise in the design, implementation, and maintenance of machine learning (ML) systems is referred to as a machine learning engineer. The engineers exhibit a profound comprehension of programming languages, machine learning algorithms, and data structures. Their principal responsibility involves transforming business challenges into machine learning resolutions through the creation and implementation of algorithms capable of learning from data and generating predictions.
Salary range: £35,000-£70,000 per year
Top companies recruiting machine learning engineers: Fox Morris Groups, Pynea, TikTok, Citi, and Cromwell Group
Business Intelligence Analyst:
A business intelligence analyst is an expert in the collection, interpretation, and analysis of data in order to provide business decision-makers with insightful information. These analysts facilitate organisations in comprehending market trends, optimising strategies, and making well-informed decisions by converting unprocessed data into actionable and meaningful information.
Salary range: £40,000–£65,000 per year
Top companies recruiting business intelligence analysts: Compass Fostering, G24, TransferRoom, Citi, Hallmark, Sopra Setia, and Swindon Borough Council
Data Engineer:
The responsibility of designing, developing, and overseeing the architecture of data systems within an organisation falls on a data engineer, an accomplished professional. Processing and preparing raw data for analysis is among the responsibilities of these engineers throughout the data lifecycle. Furthermore, their involvement is vital in the development and maintenance of the infrastructure that facilitates the smooth and dependable transmission of data.
Salary range: £30,000–£50,000 per year
Top companies recruiting data engineers: Capgemini Engineering, Llyods Banking Group, Head Office, Nolea Health, Focus Group, and Financial Edge
Why study an MSc in Data Science in the UK?
Studying in the UK for an MSc in Data Science offers various advantages, including the following:
Research Opportunities: A Master of Science in Data Science from this institution grants entry to state-of-the-art research facilities and presents prospects for active participation in transformative projects, which promotes progress in the discipline.
Network Building: The UK study provides the opportunity to establish a global network. Global employment opportunities, conferences, and collaborations with peers, faculty, and industry experts can be facilitated through interaction.
Academic Excellence: International universities in the United Kingdom are renowned for their remarkable academic achievements. An MSc in Data Science from a British institution grants one access to a superior education, cutting-edge research, and seasoned faculty.
Top universities to pursue an MSc in Data Science:
The significance of a degree in the field of data science has been steadily increasing in recent years, driven by the immense volume of data generated by major companies that requires skilled handling. Therefore, pursuing a degree in data science is highly recommended for individuals aiming to thrive in this dynamic field. Here are some top universities in the UK renowned for their programmes in data science:
| | |
| --- | --- |
| Top universities in the UK | Fees range |
| DeMontFort University | £17,000 – £20,000 per year |
| London Metropolitan University | £16,100 – £20,000 per year |
| University of Edinburgh | £20,000 – £40,100 per year |
| University of East London | £15,400 – £21,000 per year |
| University of Hertfordshire | £15,100 – £22,100 per year |
Conclusion:
Data science is experiencing promising growth prospects in the United Kingdom, offering numerous opportunities for individuals who have completed their MSc in data science. While the investment required to pursue an MSc in Data Science in the UK typically ranges from £15,000 to £30,000 per year, the return on investment is substantial. Graduates in the field can expect to earn between £35,000 and £70,000 per year within just one year of completing their degree.
For those considering a career in data science, seeking guidance from foreign studies consultants is advisable. These professionals can assist in selecting the best university for pursuing an MSc in Data Science in the UK. IOA Global stands out as one of the top foreign studies consultants, offering valuable support to individuals aspiring to study abroad and start a successful career in data science.