Pearson Test of English Academic is a computer-based exam conducted by Pearson VUE for people planning to move abroad. These exams are comparatively simpler than IELTS and provide easy access to score well and step the path of better opportunities by moving out for overseas education.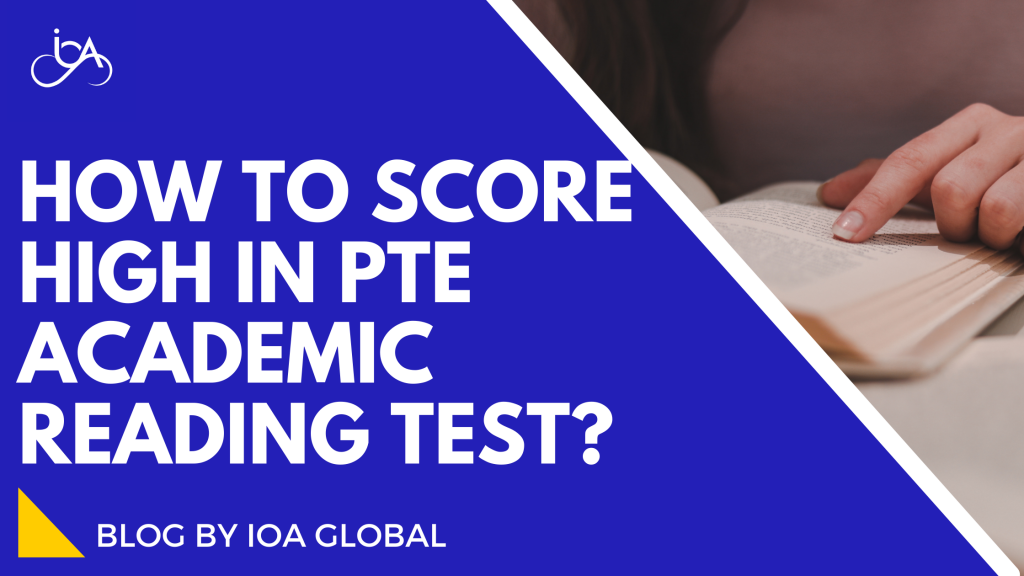 Tips and tricks to score high in PTE Academic Reading Test
If you are a student planning to fly out to study abroad, you must have already come across these two exams: IELTS and PTE. Following this statement, your very next question would be what is the difference between the two?
Well, the only difference between the two is that the IELTS exam offers a choice between paper-based tests as well as computer-based tests whereas the PTE exam is only computer-based. This means when appearing for the IELTS speaking test, students can have a face-to-face conversation with the examiner whereas, in the PTE exam, students will have to converse with the computer itself.
Now, that you are here we are pretty clear with your examination choice, so let's move on to the part where we discuss how to prepare for the PTE Reading test. PTE stands for Pearson Test of English Academic exam conducted by Pearson VUE for the people planning to move abroad. The PTE Reading tests are much more scoring as compared to the IELTS exam and contain interesting modules accessing the capability of the test-takers moving out to either study abroad or immigrate for work commitments. 
To begin with, let's understand the pattern of the PTE Reading test below: 
The PTE Reading section is conducted for approximately 29-30 minutes in general.
Speaking, reading, writing and listening skills are assessed of the test-takers with a total of 20 questions asked in the PTE academic test. 
This section comprises multiple question questions, sentence completion, fill in the blanks, rephrasing content, etc. 
 Test-takers should start their preparation well in advance since this is not the only segment they have to attempt. It's always advised to immerse in the language when preparing for the same for better scores. Let's get into the detail of how to prepare for the PTE Reading section below:
1. It's all interconnected 
Have you ever thought about why people encourage reading as a habit? Well, reading more not just improves your vocabulary but also broadens your perspectives about how to approach things in general. When you invest more time in reading every day, you will automatically be preparing for the speaking, reading, and writing sections. Now, here are some pointers for you to kick-start your reading journey
Spend at least 2-3 hours reading out novels, journals or essays, whatever hooks you on.
Summarise key points from the portions covered and rephrase them to get a better understanding of the text.
Practice as much reading comprehension as possible and then try and question the answers below.
2. Build your dictionary 
When you indulge in reading often, it's natural that you will end up learning new words every day and that is exactly what we need here. Make it a point to at least learn 10 new words every day to improve your vocabulary. Keep a pad, to note down the new words you come across, keep reading them and try using them in different sentences. Well, making your own dictionary is not such a bad idea, is it?
3. Pay attention to the details
When you prepare for the PTE Reading test, remember to focus on the instructions to avoid losing unnecessary marks. Before you start attempting any question, highlight the important instructions carefully, to use them while you are writing your answers. These minute details can result in the test-takers paying a heavy price of losing marks.
4. Don't leave blanks 
Well, this is obvious but many test-takers lose their chance to study abroad just because they don't appear for the paper in the right manner. You are not supposed to leave any question blank, those results in negative marking hence it's best to attempt it whatsoever.
5. Only focus on the questions 
Take this to be the most important tip and put it into practice while you prepare for the PTE reading test. You should never spend too much time reading the text, trying and making sense of every word possible. This will be a complete waste of time since the only agenda should be to focus on the questions listed below. Now, to help you tackle this issue here is something that you can do: 
Read the questions first and then move on to the comprehension. 
Underline the answer to the questions or maybe the key points while reading the text and then rephrase them in your own words.

 
Golden rules to remember while giving PTE reading test :
The test-takers need to develop this habit of keeping a track of time. To be better at time management, practice this technique while you prepare for the PTE reading test. Make sure you pick out questions of more weightage first, attempt them with a fresh mind and then move on to the easier ones to avoid pressure at the end. Use the guidance of your study abroad consultant introducing you to strategies to complete the exam just in time. 
As mentioned earlier the only way to ace the exam is to know the exam. You know this by now, that the PTE Reading test will include multiple-choice questions, fill-in blanks, paraphrasing, etc. It is important to devote equal time to all the sections to prevent answering under-pressure at last. Given below are strategies to help you tackle different questions in the PTE Reading Test:
Here, we require you to have a stronghold on your grammar while you are attempting the PTE Reading Test. Use the technique of scanning and skimming the reading comprehension and answer the multiple choice questions within the time frame. Now, it is important to understand that you might not find the same words in the text, hence using synonyms and then eliminating the wrong answer is how you will have to tackle questions like these.
Now, here is where your practice comes into use, remember we said to keep a pen in hand while reading and marking the important points. Now, this is something that will be a lifesaver when handling paraphrasing texts. While skimming and scanning the text, make sure you keep highlighting the key points and then use them to write a fancy answer at the end bringing the best words in your dictionary into action. 
Again emphasizing the need to have a stronghold on your grammar is vital to ace this section of the PTE Reading test. After you skim and scan the text, place appropriate words in the blanks using synonyms in case you are unable to find them in the text itself. Concentrate on the portions of speech preceding and after the blank; this will aid in the search for the missing word. In most cases, the missing term will have a synonym in the provided text.
Final thoughts 
If you are still facing trouble figuring out where to begin with, find out PTE coaching centre near me and seek admission to start your preparation under the expertise and guidance of highly qualified teachers. We at IOA Global strive to create opportunities for students to achieve their dreams of global education by providing them the required services. So whatever point you are in, visit us and remove your doubts at IOA Global or call us at 011-491461461 / 9654544247 / 9971403636