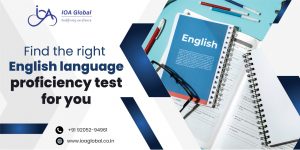 English is the common language that is widely accepted and understood around the world. When a non-native speaker visits a native country for study or work, they need to appear for an English language proficiency test. Holding an English language proficiency certificate is a gateway to entering the country.
There are ample English proficiency exams, and you need to find the one that is the perfect fit for you. If you are not able to identify which exam is right for you, talk to the best study abroad consultants in India. Explore the features of different English language proficiency tests here:
International English Language Testing System (IELTS):

An individual who is planning to study abroad should have an English language proficiency certificate. As the most reliable English proficiency examination, it is widely accepted by educational institutions, agencies, and employers across the world. The test evaluates a person's language skills across four sections: reading, speaking, writing, and listening.
IELTS is accepted by more than 10,000 organizations around the world. There are two IELTS tests available: IELTS academic and IELTS general training. Each test has its own importance, such as:
IELTS Academic assesses whether your level of English proficiency is appropriate for a university environment; thus, it reflects aspects of academic language.
IELTS General Training evaluates English language proficiency in a practical and usual context.
Each of the test versions has different aims, wherein one focuses on day-to-day aspects and the other on academic aspects. There are thousands of institutes in Delhi training students to score their desired band in IELTS. Have a word with the best IELTS coaching in Delhi and get yourself enrolled to ace the exam.
Pearson Test of English (PTE):

The PTE is a computer-based exam conducted in a test centre. There are three major sections: speaking and writing, reading, and listening, that are evaluated through this test. The entire examination is carried out via computer, and both oral and written responses are recorded and assessed.
Though PTE is not very popular, the acceptance rate of this test is very high. The process usually continues for 3 hours, during which an individual is given an optional 10-minute break. The break is usually between the reading and listening parts. Globally, there are over 295 test centres in more than 50 countries.
Test of English as a Foreign Language (TOEFL):

The Test of English as a Foreign Language (TOEFL) is a standardised exam that measures the English proficiency of non-native speakers. It is commonly used as part of the admissions process for international students by universities, colleges, and other educational institutions. There are four sections that are assessed in the TOEFL, including writing, reading, speaking, and listening.
The TOEFL is one of the most well-known American exams, and universities and other institutions accept it everywhere. An individual can attempt TOEFL iBT in three different ways: at a test centre, at home, or on paper. There is a slight distinction between these three types of exams:
At home: The test includes all the sections; however, it can be given from home in the comfort zone of an individual.
At the test centre: TOEFL iBT tests all the sections at the test centre.
On paper: The three sections of the paper-based test are taken at the test centre, while the speaking test is taken on a computer at home.
The score of each section in the TOEFL ranges from 0 to 30, but the highest score can be 120. The TOEFL score is valid for two years. When it comes to studying in the USA, the TOEFL is the most suitable exam.
Duolingo English Test (DET):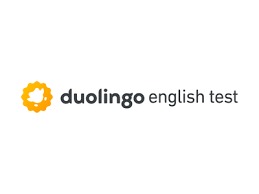 The Duolingo English Test is an English proficiency exam that evaluates an individual's command of the English language. This is an online English language proficiency test that can be given in an individual's comfort zone from anywhere.
It takes around an hour to complete, and it's divided into three sections:
Introduction and set-up (5 minutes)
Adaptive test (45 minutes)
Video Interview (10 minutes)
Now, universities worldwide have started accepting students with DET certificates who wish to pursue any course in the country. Plus, it is convenient to take the test from anywhere with a proper setup.
Cambridge English Exams:

The proficiency levels offered by Cambridge English Exams range from beginner to advanced. The examinations adhere to the Common European Framework of Reference for Languages (CEFR), which provides a standardised assessment framework for language proficiency. Multiple exams are conducted under Cambridge English, including:
KET (Key English Test): This elementary test focuses on your ability to use the language to communicate in simple situations.
PET (Preliminary English Test): This intermediate test focuses on the practical knowledge of the language.
FCE (First Certificate of English): As per the evaluation of this test, the ability of an individual Usually, anyone who has cleared this test must have the proficiency to live and work independently in an English-speaking country.
CAE (Certificate in Advanced English): CAE evaluates the proficiency of an individual that universities and employers are searching for.
CPE (Certificate of Proficiency in English): This is the highest level of English language test conducted by Cambridge English.
Thousands of employers, government ministries, and universities accept Cambridge English exam scores. The best thing about these test scores is that they do not have an expiration date.
Final thoughts:
We hope that now you have the desired information as to which English language proficiency course you should take. Each test mentioned above has some unique features that appeal to an individual. However, there are some additional advantages associated with IELTS. Apart from being a widely accepted test, the content or type of questions asked in the IELTS test is relevant all over the world. Moreover, there is ample of best IELTS coaching in Delhi. In case you are still confused about which exam to take, ask the best study abroad consultant in India to know more.
Nevertheless, whichever test you will take requires a good amount of practise, so it is better to be prepared.
Contact us: