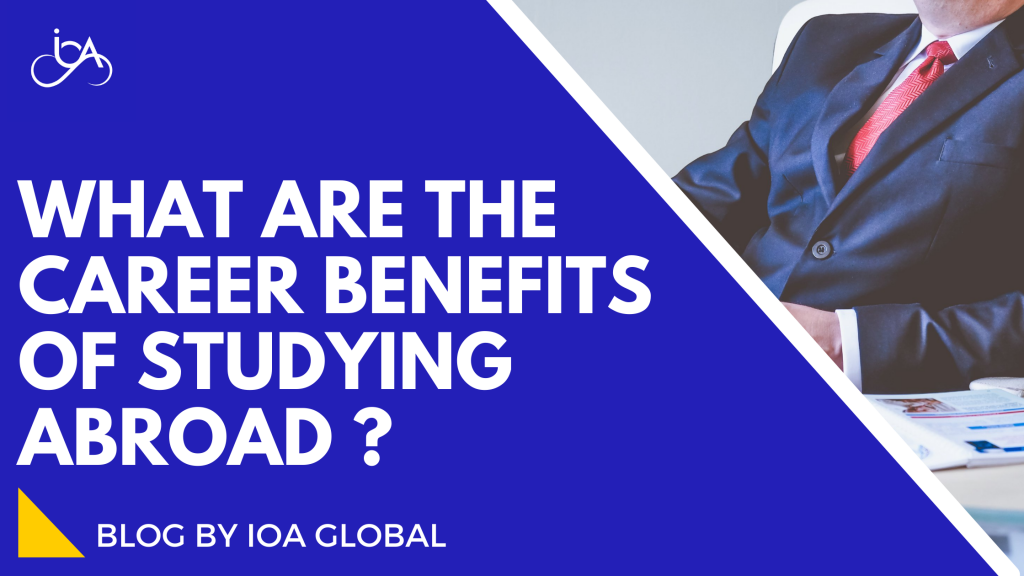 How study abroad can benefit you Career ?
If you are a curious thinker, you must possibly be wondering why flying out to study abroad is gaining mass popularity among students across the globe. Well, no matter how challenging the situation appears at first, the array of career benefits it brings along will be quite rewarding. Your ability to become comfortable with uncomfortable situations will speak volumes about your personality as well as highlight your resume with a degree from some of the top universities. 
As a student our main priority is always attracting the best for our career, overseas education will not just bring academic excellence to your doors but the global exposure, immense resources, and recognition from some of the top employers in the world will leave you overwhelmed. If you are still contemplating the career benefits to study abroad, here is a possible list of reasons to help you affirm your decision to study abroad: 
To begin with, take a look at the stats below:
Every year 2.5 million Indian students move out for overseas education, which is the highest number of migrants moving out annually.

With 18 million Indians residing outside their homeland in 2020, India has the world's largest diaspora population

59% of the working population relocated abroad in search of better opportunities.
Well, you remember how it is said, that numbers don't lie. The stats make it loud and clear how moving out to study abroad definitely is a pulling factor for not just students across the globe but even for the working population in search of better career opportunities and improved standard of living. 
5 Career benefits to study abroad :
1. Who doesn't appreciate a strong network
Now, who doesn't believe in expanding their network to widen their career prospects over the years? The decision to study abroad allows you to grow your circle with people from diverse cultures and work with some of the top employers in the industry. Making connections has never gone wrong; well you never know how someone can lead you to a potential job vacancy. Remember to be in the good books of your professors or previous employers for them to recommend you to other potential employers. Building a strong network while you are still pursuing education will do wonders for your career and bring you closer to rewarding opportunities like promotions, mentorship, maybe your dream job, who knows?
2. Being Multilinguistic is not that bad
When you are in a country, where the language is completely unfamiliar to that of your home country, it's best to learn the language before flying out to study abroad. There are possible chances of universities using that particular language to teach, which is not something you would want so it's best to go prepared. This will not just help you feel part of the community but also increase employability to its peak. Immersing in the language is a great way to learn as well as form strong connections with people who can bring about possible opportunities for you to excel in your career. 
3. A strong personality is always a win
When you become comfortable with challenging situations that is when the magic happens. Your decision to leave the comforts of your home country and move miles away to a whole new nation in the search for better opportunities and building a career worth cherishing is something that will highlight you in the lists of top employers. You will have an edge in your career or even be promoted to higher positions because your skills and personality will speak for themselves.
4. Improving research ability
Studying overseas allows you to concentrate on the research aspect of your subject, which is undervalued otherwise. Other countries, like the United States, have cutting-edge research opportunities and infrastructure. Using your intellectual ability, research has always made a dull subject exciting. Universities make a concerted effort to entice and push students to expand their theories and come up with something interesting. Constant efforts are taken for students to develop skills that will result in their holistic development and will prepare them for the competitive market.
5. Mastering communication
This is something that the students develop inevitably over the years during their stay abroad. A part of staying abroad involves communicating in the native language every day, moreover having a strong command of your communication skills will always work in your favour, putting you on the radar of all the employers or helping you socialize better with the people around you.
Final thoughts 
We hope we were able to convince you with the career benefits to study abroad. With no bars for you to achieve heights, moving out to study abroad can indeed broaden your knowledge as well as pour never-ending opportunities your way. It's best to seek the guidance of your study abroad consultant, to acquire a list of courses and top universities in your ultimate study abroad destination. 
IOA Global is here to make this journey worth a while for you. We have successfully helped more than 1500 students to live their dreams to study abroad. Our vision is to cater to Taylor-made solutions which prepare the students for every aspect of this journey from the application process to the interview round and ensure favorable outcomes. So whatever point you are in, visit us and remove your doubts at IOA Global or call us at 011-491461461 / 9654544247 / 9971403636